Project description
PlanningSphere advised Longacre Bath on a proposal to redevelop a Grade I listed building at 34-36 Stall Street, Bath. The proposal will create a new retail unit on the ground floor and eight apartments on the upper floors.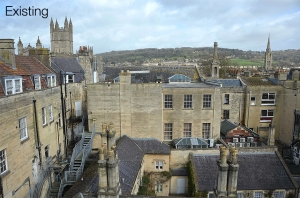 Following a pre-application process, planning and listed-building consent applications were approved BANES Council in September 2014.
The main image shows the proposed rear elevation of the building when viewed from the roof terrace of the Thermae Bath Spa. The inset image shows the current appearance of the same elevation.
Following the grant of planning permission and listed-building consent, the scheme has now been completed
Image courtesy of Joseph King Interiors